Hydrogen Embrittlement Relief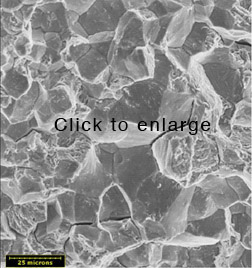 Milspec parts that meet or exceed Rc39 are required to undergo hydrogen embrittlement relief baked after coating.
Hydrogen ions from nitric and phosphoric acid in the coating bath find their way between the grains of the ferrous substrate when the parts are gassing. Disassociated hydrogen ions take up very little space, but when the hydrogen ions combine to form hydrogen molecules they take up tens of thousands of times more space. This applies stress on the grains and may causes cracks to form and the part to fail when additional outside stress is applied to the parts during use.
Commercial parts, depending on the coating specification, may be excluded from hydrogen embrittlement relief heat treatment. We strongly recommend that the intended use of the parts being coated be carefully examined for the possibility of liability if the part were to fail and the lack of hydrogen embrittlement were to be found as the reason for failure.
Commercial parts recognized as weapon system components will be hydrogen embrittlement relief baked.
Times and Temperatures: All coated milspec parts and designated commercial parts at or above Rc39 are baked at 220F for 8-hour prior to shipment. An option to allow the coated parts to rest at room temperature for five full days instead of oven baking prior to shipment is permitted by MIL-DTL-16232G. Please note on the order when the 5-day embrittlement relief procedure is preferred. A hydrogen embrittlement waiver to permit early shipment is available.
Supplementary Treatments
Military
| | |
| --- | --- |
| MIL-DTL-16232 type M, Class 1 And Finish # 5.3.1.1 per MIL-STD-171 | Any supplementary treatment as specified ranging from Heavy preservatives to light oil. Solid film lubricants and paint primers may also be specified. |
| MIL-DTL-16232 type M, Class 2 And Finish # 5.3.1.2 per MIL-STD-171 | Application of MIL-PRF-3150 or MIL-C-16173 grade 3 |
| MIL-DTL-16232 type M, Class 3 And Finish # 5.3.1.3 per MIL-STD-171 | No supplementary treatment |
Commercial
Unless otherwise specified MIL-DTL-16232 type M, Class 2 supplementary oils will be applied.